Everyday. Yes it is that time of the year again when Shimelle's 'Learn Something New Everyday' online course starts again. This year I am determined to complete this course.
"Learn Something New
is all about being aware of the world around you and taking away one little lesson from that world each day for a month. You can approach it in terms of
gratitude
.
Or patience. Or steps toward a
goal
. You can then take on the documentation in any style you want: write in a journal. Make a
minibook
. Write
daily blog posts
. Take
a daily photo
. Use pocketed page protectors for a one-month addition to your albums or a September focus for an on-going Project Life album. Work with paper or pixels. Write a little or a lot. Total creative freedom to make it work for you." Shimelle.com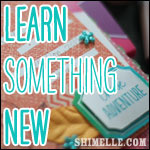 For my mini album I am using a small sketch book which I have altered. I have a couple of
Amy Tan's
Day books
but there wasn't enough pages in them so I decided to use this sketch book based on her day books.