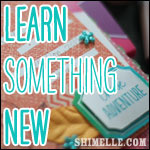 ....Day 1 is all about
'MAKE EVERY DAY AN ADVENTURE'.
For this prompt I based my page on my son Ciaran who will be heading off soon on his own big adventure to college. As his mother I'm not looking forward to it but I am excited for him and hoping he'll enjoy this chapter in his life.